• Firms to experience trouble selling new bonds as old mature
• 56% of Chinese execs say unethical behavior can be justified Forged seals, fake letters, and counterfeit documents.
They're all part of China's recent spate of fraud coming to light in the country's $3 trillion corporate debt market amid a rout that has analysts predicting a record number of defaults in 2017.
As it becomes harder for Chinese companies to issue new notes to repay maturing debt, expect more scandals to come — and to worsen the bond market's already-precipitous downturn.
"We expect to see more of this type of behavior given the increasingly problematic environment for refinancing in the domestic bond market," said Charles Macgregor, head of emerging markets at Lucror Analytics in Singapore. "Unfortunately, these frauds may be difficult to detect, as documentation and seals may appear authentic given collusion between various parties."
A survey by Ernst & Young last year found that 56 percent of Chinese executives polled said that unethical behavior, including misstating financial performance, could be justified to help a company survive a downturn, compared with 36 percent globally.
"When there's economic uncertainty, when there's pressure on results, sometimes management can be induced or can sometimes naively get into a situation where they believe that they can act in a way, they rationalize the way, that essentially could be unethical," said Chris Fordham, Hong Kong-based managing partner with Ernst & Young's fraud investigation and dispute services in Asia. "But they rationalize it, that they're doing it for the good of the business, for the survival of the company."
Latest Scares
Within two weeks in December, two fraud cases emerged that shook the bond market by threatening to undermine confidence in the ability to collect on the enormous amount of credit that's built up in the nation. China Guangfa Bank Co. said documents and seals in its name had been forged for use on a letter to guarantee bond payments.
Separately, Sealand Securities Co. said former employees conducted as much as 16.5 billion yuan ($2.4 billion) of bond trading with a forged official seal, or chop.
The alleged forged stamps at Sealand, which it has said are being investigated by the police, were on so-called entrusted holdings, a widely used tool to boost leverage in China's debt market. Under such structures, investors legally skirt rules by entrusting their note holdings to a third party and agreeing to buy them back later. That frees up funds on their books that they can use to purchase more bonds.
While China is no stranger to fraud, the scandals hitting the bond market prompted an escalation in counterparty risks, discouraged financial institutions from trading with each other and dried up liquidity.
Chinese firms may have trouble selling notes in 2017 to repay maturing debt, and that could spark more defaults, according to Moody's Investors Service. At least 117.5 billion yuan of bond sales were canceled or 2 postponed in December, almost quadruple the amount in November, according to data compiled by Bloomberg.
The number of onshore bond defaults in 2017 may exceed last year's level, according to 75 out of 100 analysts and traders who took part in a Bloomberg survey in December. At least 29 notes defaulted in 2016, compared with seven in 2015.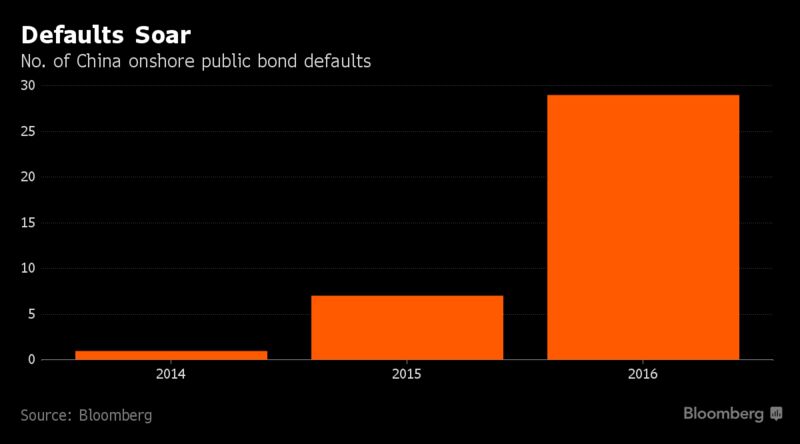 S&P said in a Dec. 12 report that inadequate risk management and transaction and settlement issues could escalate and hurt market confidence as China's economy slows and markets experience volatility.
"As the economic slowdown continues, we will see more and more naked swimmers," said Zhu Ning, deputy director of the National Institute of Financial Research at Tsinghua University in Beijing. "We won't see systemic risks in the immediate term, but if the government doesn't rein in wrongdoing, risks will escalate."
Top Priority
China's policy makers vowed to make preventing financial risks a top priority this year and set the tone for tighter monetary policy, mentioning the term "liquidity gate" which has historically been associated with sharp bond market sell-offs. The previous two times the term was mentioned, in December 2010 and May 2013, bond yields surged by 27 basis points and 128 basis points in the next three months and six months respectively, according to Citigroup Inc.
An index of Chinese government bonds plunged 1.7 percent in December, the biggest monthly decline since October 2013, as tighter monetary conditions triggered the unwinding of a leverage chain of savers, banks, funds and brokerages.
Like the country's $5 trillion equity crash in 2015, the bond rout underscores how quickly market conditions can change in China, where moral hazard is rampant and the shadow-banking industry is opaque and massive.
"It all points to the severe lack of risk control within China's financial institutions. China's financial market is developing very fast, but the legal infrastructure has not been keeping up," said Xia Le, Hong Kong-based economist at Banco Bilbao Vizcaya Argentaria SA. "China should use legal procedures to pin down who is responsible for entrusted bonds or forging documents, rather than acting on an ad hoc basis."
Regulator's Action
The regulator stepped into the Sealand case. In an emergency meeting called by the China Securities Regulatory Commission on Dec. 20, after negotiations entered a deadlock, representatives from all institutions involved were ordered not to leave the meeting room until reaching an agreement, according to 3 Beijing News. The brokerage said later it would honor the contract, sharing responsibilities with 19 financial institutions.
"Traders have the incentives to take on risky investments and find regulatory loopholes for personal gains," said Oliver Rui, a Shanghai-based professor of finance and accounting at China Europe International Business School, referring generally to such practices. "The financial institutions behind them often turn a blind eye to it because the punishment is so weak. This is among the most bizarre things in China."
The Sealand case triggered significant market jitters and caused a breakdown of trust between banks and nonbank financial institutions, resulting in a shrinkage of bond market liquidity as market makers were reluctant to serve as intermediaries in transactions, Citigroup's Hong Kong-based analyst Judy Zhang wrote in a Dec. 21 note.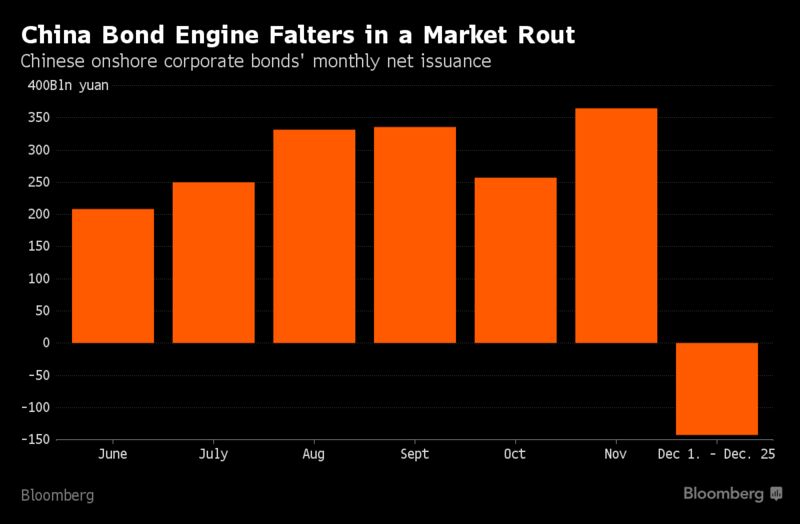 A few days later, a separate incident emerged after Cosun Group failed to repay its debt sold to private investors.
The debt insurer Zheshang Property and Casualty Insurance said Guangfa Bank issued a letter of payment guarantee, which the bank later said used documents and seals that were forged. Cosun itself isn't implicated in the case.
A Hangzhou-based spokesman at Zheshang insurance said the company reported the case to the police at the end of December and hadn't heard back. On Tuesday, the insurance company posted a statement saying it has tried its best to protect the interests of policyholders and shoulder social responsibility by repaying the first two issuances of the Cosun bond. Now, as the other four have matured, the company will continue to make payments in installments, it said. Representatives from Guangfa Bank, Sealand and Cosun couldn't be reached this week for comment.
"Cosun's debt is a junk bond sold to individuals investors. Nobody would've bought it without that letter of guarantee from Guangfa Bank," said He Xuanlai, a Singapore-based credit analyst at Commerzbank AG. "After all, it's the worsening of refinancing conditions that made problems, which could be covered previously by issuing new debt to repay old."
— With assistance by Lianting Tu, Jun Luo, Judy Chen, and Lisa Pham